The choir at St Andrew's Church has been in existence for many years and exists to enhance the experience of worship in St Andrew's church: to lead the congregation in traditional hymns and the more modern songs and choruses of praise; to sing anthems appropriate to the Church's calendar and to enrich the distribution of communion with contemplative and quiet hymns.
St. Andrew's Director of Music, Earl Moffitt, writes:
Visiting St. Andrew's in 1988 for the first time remains clearly etched in my mind. Dan Pope was Chaplain, the Service was memorably reverential and dignified, the sermon exceptionally thought provoking whilst the congregational singing was participative and enthusiastic. Countless visits later, and in the spring of 2015 with retirement from my professional career looming, the Rev'd Wendy invited me to consider the position of Director of Music at St. Andrew's.
In the light of subsequent experience, with so much practical support on the ground and the wonders of modern technology, it is possible for me to be playing the organ in two places at once on a Sunday morning! In St. Andrew's the modern digital organ has a most useful sequencer facility for recording and playback of hymns which enhances congregational singing on occasions when no organist is present.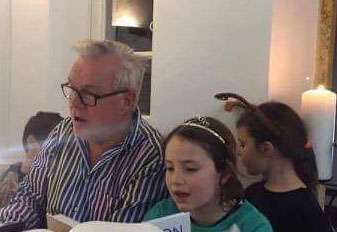 It is always a delight to return to St. Andrew's. In the early part of 2016 I was delighted that the church council unanimously approved my request to have the organ console and choir resited at the west end of the church, just under the rear speakers. I was most impressed with the willing team of workers who moved the instrument very early one Saturday morning! Notwithstanding the remarkable sound improvements and togetherness of organist and choir members, music which is led from behind greatly encourages congregational singing whilst  musicians and singers remain no distraction to what is happening in the sanctuary during worship.
Christians are a singing people, and a choir defined as a body of singers who perform together as a group. In church circles a choir is usually an open, welcoming and diverse group, striving to add creative artistry and beauty to worship.
The most important function we share as both organist and choir is to lead and encourage the congregation to sing with enjoyment and understanding in the praise and worship of God. Participation in our choir ministry is primarily based  on these principles, along with a desire to improve what we do each time we meet, trusting also that we may be an avenue for introducing outsiders to the church and the faith.
With all of this in mind, in June 2016, following consultation & support from Rev'd Wendy and choir members, we held our first St. ANDREW'S MUSIC WEEK.  Feedback from our guest facilitator, Gordon Appleton, a former director with the a Royal School of church music, was as follows:
"I was impressed by the enthusiasm of the choir who sang in four parts the psalm and the lovely Bach chorale during communion. I do hope that some four part singing will continue to feature in the choir repertoire. The anthem He came singing love which was in two vocal parts was most effective, and the singers performed the piece with accuracy and expression and it came across with a deep feeling for the words and music. I hope that the congregation found this a helpful enhancement to Sunday's worship. Clearly, psalm singing to Anglican chant was a challenge, but the singers persevered and sang this well during the service. Having mastered the principles of chanting, I hope that they will continue to use it from time to time. Chanting need not be in four parts, but confident unison singing, accompanied by the organ would, I suggest, be a good way forward. I was pleased that at the Eucharist we were able to introduce one of the oldest Christian melodies in the dialogue "Sursum Corda" between priest and congregation. This simply reminds us of our rich Christian tradition of plainsong going back to the very beginnings of our heritage.
"I appreciated the chaplain's sensitive leading of the worship, lay participation through the excellent lesson reading and the thoughtful and carefully prepared leading of the prayers. Worship is perhaps the most important activity of a Christian, 'our duty and delight', and at St. Andrew's it was apparent that it was taken seriously, with due reverence, pointing away from ourselves to the Creator. I appreciate that Anglicans worship in different styles which need to have their place in the chaplaincy, but I thought Sunday's worship was a beautiful act of worship, and this is in no small way because of the sensitivities, experience and understanding of the chaplain. It was good to hear good congregational singing, not just in the hymns but in the Eucharistic propers.
"Clearly the fact that so many of the congregation at St. Andrew's are not in Cyprus permanently inevitably has an effect on the music. However, I thought that the Songs of Praise service was most successful and this can be a good model for future occasional services. Not only is this a good way of building the church community, but is a great opportunity to teach the congregation new music. I am sure that as Director of Music, Earl will build on the enthusiasm of the singers, and Wendy will continue to take such care over the worship that St. Andrew's will continue to inspire in the years ahead.
"Thank you for the privilege of involving me in the worship and life of St. Andrew's."
Choir rehearsals are held on Thursday evenings in the weeks preceding special events and routinely on Sunday morning at 9.45am. Recruitment to the choir is by means of a simple voice test for two very good reasons:
to ensure that those wishing to join are singing in tune (music reading or part singing, whilst beneficial are not prerequisites)
of equal importance to singing in tune is establishing that potential members will be team players, prepared to commit to rehearsal and Service attendance.We do of course accept that many members will, like myself, not be on the island every week!
Singing is biblical, (in fact older than the faith itself) with the New Testament clearly reminding us to sing and make melody in our hearts.
Earl Moffitt
Director of Music
March 2017
Choir Notes – 2017
Remembrance Sunday 12th November 
Advent Sunday  3rd December 
Carols by Candlelight – Sunday 17th  December 
Midnight Mass Christmas Eve at 11.30pm
Christmas Day 2017 at 10.30am
2018
Palm Sunday 2018 March 25th 
Maundy Thursday  March 29th
Good Friday March 30th 
Easter Day 2018 1st April 
MUSIC WEEK 2018 ( with Canon Martin & Mrs Noreen White) 
Thursday 7th June
10:00 AM CHORAL EUCHARIST 
19:30 Evening of Favourite Hymns & Organ music.
Friday 8th June
19:30 Choral & Organ Music Concert with St. Columba as it's theme
Sunday 10th June

10:30 Concluding FESTAL EUCHARIST – celebrating St. Barnabas