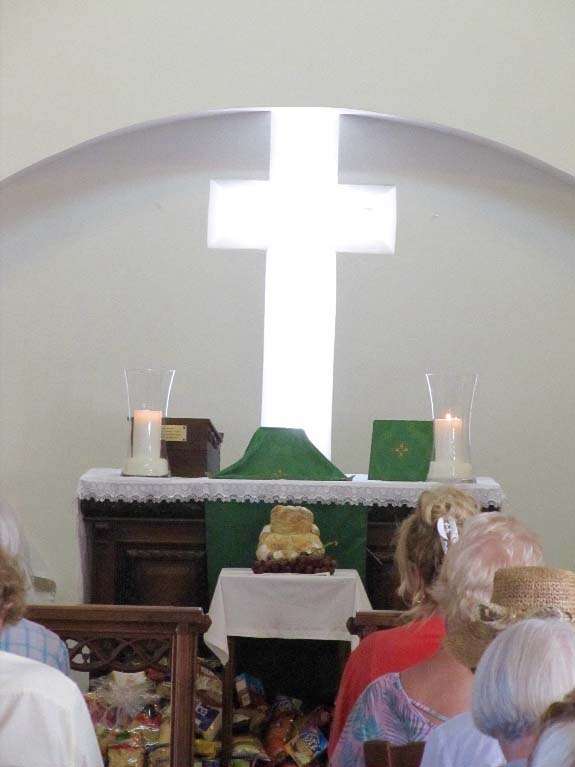 St. Andrew's, in common with many churches in the Anglican Communion, traditionally celebrates a Service of Thanksgiving for the Harvest.
This took place this year on Sunday 7th October 2018.
The guest preacher for the service was the Revd Steve Ward, a Methodist Minister and former Army Chaplain now living in the Republic of Cyprus, who joined us with his wife Louise and many other visitors and guests. Steve preached a wonderful uplifting sermon to a full church using texts from the readings of the day. From Psalm 126 Steve looked to us to be filled with joy at all the blessings which we receive from God, and reminded us that though we may sow in tears yet we shall reap with joy.
Steve also introduced some of the congregation to Abraham Maslow's "Hierarchy of Needs", eliciting a groan from the Revd Mike who remembers studying this during management training in a previous existence of his! Although Maslow identified basic human needs such as food and shelter as the basis of his "hierarchy", Steve added to this the need for us to be founded first and foremost on God, who provides for all. He then reminded us of our need to care for those whose needs are greater than ours in this world where so many suffer from privation.
Among our visitors we were delighted to find Joanne, an accomplished organist from Liverpool, who led our worship without the need for the organ sequencer!
Following the service all were invited to join us in the front of the church for the traditional "bunfight". In previous years this would have taken the form of a "bring and share" lunch in the grounds of the Hermitage, but sadly, due to circumstances beyond the control of the parish, these are currently not available to us.
Instead the suggestion was made and approved by the Church Council that we would offer a buffet lunch in the grounds of St. Andrew's to those who wished to join us. This proved to be a great success and was a wonderful witness to many passers by who wondered what was going on. Two ladies even joined us, and shared in the lunch!
A model may have been set for future Harvest Thanksgivings: indeed what better evidence could we have that the Revd Steve's words from Psalm 126: "those who sow in tears [because of the situation we find ourselves in vis-à-vis the Hermitage] shall reap in joy" are so very true for us here in St. Andrew's at this time!
Below are some photographs of the joyful day: