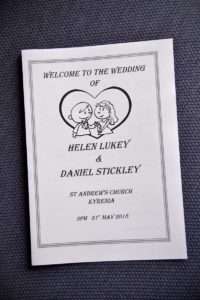 On Thursday 31st May, in spite of the inclement weather (thunderstorms and torrential rain!), St. Andrew's Church in Kyrenia was filled with happiness and joy at the wedding of Helen Lukey and Daniel Stickley.
Helen, a Senior Carer from Poole and Daniel, a Leisure Centre Duty Manager and Lifeguard from Blandford met through a dating website some five years ago and, by a remarkable coincidence which neither party realised at the time, became engaged on exactly the same date as Helen's mum and dad 50 years earlier!
Judy and Mike, Helen's parents, had been visiting North Cyprus since 1997 and finally became 'swallows' when they bought their Ozanköy home in 2003. So it was natural that their daughter, who had spent many happy holidays with them in their new home, decided to have her wedding here, especially since the weather would be so beautiful in May!
Daniel was supported by his best man Ricky Trim, while Helen was escorted on the arm of her dad, Mike, by her bridesmaids Nicki Way, Sally Marks, Jasmine Lukey and Anjie Teideman. Flower girl Megan Lukey strewed the aisle with petals while Helen's grandson Noah Lukey, held in his dad Ben Lukey's arms, was page boy: four generations of the family all together for this happy day.
The Revd Christine Goldsmith conducted the ceremony, which was administered by Pat Baulch, the Diocesan Wedding Co-ordinator.
The reception was held in Eminem in Çatalköy.
Judy and Mike, who organised the wedding in North Cyprus said, "We'd like to express our heartfelt thanks to the dedicated members of St. Andrew's Church who have shown the utmost professionalism and care in organising the wedding service of Helen and Dan.
"Special thanks must go to the Church Wardens, Stuart (Hillard) and Sandy (Oram), and to John (Worton-Griffiths) for putting the entrance and exit music into the church's sound system.
"A huge thank you to Earl (Moffitt – St. Andrew's Director of Music), John (Crothers, Organist) and the Choir for their greatly appreciated input."
All photographs courtesy of Susie Forster