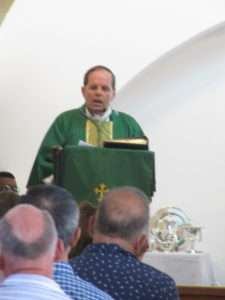 On Sunday 24th June 2018 Bishop Michael and Mrs Julia Lewis visited St. Andrew's where the Bishop celebrated and  preached at the 10:30am service of Holy Communion.
Using the Lectionary texts for the day (Job 38: 1-11, Psalm: 107: 1-3, 23-32, 2 Corinthians 6: 1-13, Mark 4: 35-41) Bishop Michael reminded us that, like the sea, parishes have their periods of storm and tumult as well as periods of calm. But Christians are to think about God's grace and widen our hearts to see the "bigger picture": what and who God is.  We have seen God in Christ. People may mock us for how we behave sometimes, but God knows us and what we can be. We have been given the gifts of grace and love which we must show to the world.
Returning to the image of the storm about which we heard in the Gospel reading, the disciples, we are told, were, naturally, afraid as the wind whipped up violent waves which threatened to swamp the boat. But Jesus slept. When they woke him, to calm them he simply said "Peace", and peace came. They already had what they needed in the boat in the person of Jesus. Like them, in the storms and tumults of our lives, we must remember that Jesus is with us too, always.
Following the service Bishop and Mrs. Lewis joined us for refreshments in the Hall.