UPDATE:
THE COFFEE MORNING RAISED OVER TL1700 IN AID OF THE CLINIC. PAT WOULD LIKE TO THANK ALL WHO HELPED AND SUPPORTED HER IN ANY WAY.
Yemen is one of the world's least developed countries and remains the poorest and most rural country in the Middle East.  The political unrest over recent months has made the situation worse for the population with diminishing food and fuel supplies.  There is also inadequate health provision for the people of Yemen. 
Although there are Government hospitals , these often have a reputation for being dirty and patients are charged for all services beyond the absolute basics.  There are also private clinics but these are prohibitively expensive for the average Yemeni.
Ras Morbat Clinic addresses these issues through the work of its two departments, the general department and the eye department.
Since its beginning in 1996 the General Department has provided primary healthcare to the poorest people in the local community.  For a nominal registration fee ($1 per person) a patient can see a doctor as often as required, and is given necessary drugs free of charge by the on-site pharmacy.  There is also a small laboratory on site where a variety of tests can be conducted, leading to rapid diagnosis and treatment of conditions.  There were over 10,000 appointments in the general department in 2010.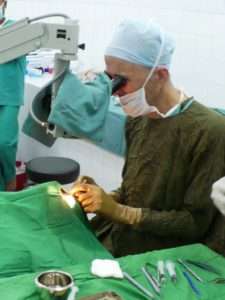 The Eye Department welcomes patients from all over Yemen, and offers visual acuity, refraction, examination by ophthalmologists and laser or surgical treatment as required.  The Eye Department also runs camps, for example an annual trip to Mocha, to treat patients in regions where there are no eye clinics.  There were over 5,000 appointments in the eye department in 2010, and over 450 operations were performed. The Eye Department is also an Implementing Partner of UNHCR and provides eye care to the Somali refugee population living in the Aden area.
In addition to providing health care, Ras Morbat Clinic seeks to employ and train local staff, thus increasing the skills within the local community.  It's role as a training institution has been recognised by the Medical Faculty of the University of Aden, and the clinic has been assigned responsibility to share in the regular training of post graduate students.
Despite the recent unrest in Yemen the clinic has continued to open its doors to patients.
For several years St. Andrew's has helped support the work of the Ras Morbat Clinic. To this end a Coffee Morning was held in the home of
Pat Etherington

on

Saturday 28th April