What on earth is a Reverse Advent Calendar?
You m
ay well ask – as so many of us did!
Most people are familiar with the traditional Advent Calendar. It consists of some way to count down the days from 1st December to Christmas Day – perhaps with little doors which open each day or a felt Christmas decoration to put on a felt Christmas tree hanging on the wall. It's even possible to buy a Lego calendar nowadays!
Sadly many of the calendars we find in the shops nowadays open on to little treats, such as chocolates or sweets, which make for an exciting time when you open the door – but do nothing for our waistline or our children's teeth.
But a Canadian food writer, Julie Van Rosendaal, came up with the idea of a REVERSE Advent Calendar.
Reverse advent calendars work by you filling them every day with with items of food, gifts or toiletries which can then be used to help those less fortunate who are struggling at Christmas time.
After gathering helpful items all month, you can take everything you've saved to St. Andrew's and know that you've given a Christmas present to someone who really needed it. Not only is this a fun thing to do together, from creating the advent calendar structure itself to picking the goodies to go in it, it brings home the importance of helping others and seeing the bigger picture at Christmas.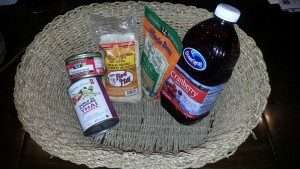 Items can be collected in a basket or a box or even plastic shopping bags. Just place one item in the container each day up until Christmas.
Please let the Chaplain, Secretary or Church Wardens at St. Andrew's know if you'd like to contribute a Reverse Advent Calendar to be handed in to the church on Christmas Eve .