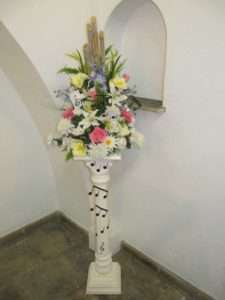 For the third year in succession, the second week in June saw St Andrew's hold a 'Music Week', intended to introduce fresh expressions of worship to our people, to allow for the flourishing of local talents and to attract newcomers to the church.
The Director of Music, Earl Moffitt, assisted by the regular choir together with Organist, John Crothers, were joined by a former cathedral organist and his musician wife, who acted as special 'facilitators' for the Week. Martin and Noreen White, who before retirement had worked for many years in Northern Ireland, came to the island specifically to give of their expertise and experience in workshops with the choir members. They also participated in the various events.
The regular singers, who had already been rehearsing for some weeks prior to Music Week under their Director of Music, found that things 'came together' admirably when accompanied by Martin and conducted by Earl and Noreen. The singers provided the music at the regular Thursday morning Eucharist and, that evening, went on to give a relaxed but thoughtful presentation of 'favourite hymns', chosen by members of the congregation.
Music Week this year was dedicated to the memory of Gordon Appleton, formerly RSCM Regional Co-ordinator and our first Music Week Director in 2016, who had died unexpectedly on Easter Day. At the hymn event, a new hymn tune, suggested by Gordon and written by John Crothers, was sung in his memory.
On the Friday evening, a Concert of Choral and Organ Music attracted a capacity audience to the church, where on the very fine Johannus instrument Martin played a number of solo organ pieces, plus a memorable movement from a Händel Organ Concerto in tandem with Noreen at the piano. The choir, conducted by Earl, were in fine form in a number of items that displayed both the range of the music chosen and the range of their voices. John then read a specially-written tribute to Gordon Appleton, before the choir sang "He came singing love", a moving anthem that had been introduced by Gordon two years earlier and which was, by common consent, one of the highlights of the evening.
A buffet reception in the lovely precincts of the church under the stars provided a fitting end to two intense days of music-making.
After a refreshing boat trip around the north coast of the island on the Saturday, singers and facilitators alike were ready to provide a Sung Festal Eucharist for the Sunday. By a happy coincidence, Saints Barnabas of Cyprus and Columba of Ireland were to be honoured that day, so appropriate music marked the occasion. Even a temporary, unexpected power cut, which removed the organ accompaniment, proved to be no obstacle to the choir, who sang on as they had been trained, and reached the end of their anthem still in tune and to applause from an appreciative congregation!
Even now, many are looking forward to the events of the Fourth Annual Music Week, with plans already being laid for 2019. Certainly, the 2018 edition was felt to have fulfilled its purpose: above all, perhaps, it helped bond our musicians together and brought a number of visitors to the church, to be welcomed by our greeters, while the Friday Concert raised a substantial sum of money for a local cancer charity and the Women's Refuge in North Nicosia.
John Crothers
Kyrenia
June 2018
Canon Martin White comments:
It was a wonderful experience for my wife, Noreen, and myself to participate in Music Week at St. Andrew's Church this year. We had never before visited this part of Cyprus, and we were delighted to find such interest and enthusiasm for Church Music!
We were welcomed most warmly by everyone in the Choir and also by so many members of the congregation and the wider community of Kyrenia. Each event had been carefully planned by Earl Moffitt, and we were so glad that the two services, the 'Favourite Hymns' evening and the Friday Concert went so well. 
After the opening Eucharist, Noreen conducted a 'Liturgical Music Workshop', with members of the choir taking part wholeheartedly, introducing some newer and less familiar pieces. It is hoped that some of this music may be of use in the future, and one item, a Gospel Acclamation Alleluia, has already been sung at St Andrew's at the final service of Music Week.
I was happy to play the organ for 29 hymns for use in the church when no organist is available. It is so good that the technology now exists to operate the Johannus organ on occasions when neither John Crothers nor Earl are present.
We were impressed by all aspects of Music Week: the devotional atmosphere of the church, the wonderful flower displays, the singing of the choir,  the vocal and instrumental solos, the fine readings at the Friday Concert, and Fr. Michael's superb preaching!  We were so kindly welcomed, and we so much appreciate the flowers we were given, the Music Week cake, and the lovely painting presented to us. This is now being framed, and will remind us for years to come of a most enjoyable week in St. Andrew's, Kyrenia.
Martin White
Armagh
14 June 2018
From Noreen White:
I was delighted to be asked to lead a choral workshop at the St. Andrew's Kyrenia Music Week 2018. Earl Moffitt, the director of Music, had earlier explained that he directs a choir consisting of some regular members, but also many 'swallows' who travel back and forth to Cyprus, with limited time for rehearsal, so I concentrated on introducing some music that might be useful  for future liturgies, but that could be prepared in a short time.
We began with some 'Alleluia!' settings, and one of these (from Luçon in France) was later used for the final celebration of the Eucharist in Music week. The choir was most welcoming and sang heartily as we tried out an eclectic international programme that included music from Ireland, the USA, France, Spain and England, finishing with a setting of the 'Christchurch Eucharist' by my husband, Martin White, written for Christchurch, Kowloon Tong in Hong Kong.
My sincere thanks to the choir of St Andrews for the warmth of your welcome, for the delicious Black Forest Gateau and presents, and for all your kindness during our stay. None of this would be possible, of course, without Earl's exceptional organisational skills and work before and throughout Music Week, and so I would like to pay tribute to his hard work, kind heart and generous hospitality.
Noreen White
Armagh
16 June 2018