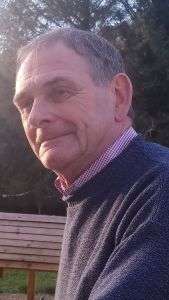 On Sunday 3rd June 2018, the First Sunday after Trinity, St. Andrew's welcomed the Ven Professor John Holdsworth, Archdeacon of Cyprus, and the Anglican Diocese of Cyprus and the Gulf Executive Archdeacon.
To a full church Archdeacon John preached on the letters of St. Paul, and those to the Corinthians in particular. Reflecting on a recent trip to the Gulf he recalled that the focus of prayer in a mid-week Eucharist was "Examinations"! Obviously at this time of year all students, indeed all college and university staff, are focussed on this particular aspect of their life, some looking forward to it more than others.
Archdeacon John then spoke of St. Paul's letters, many of which address particular problems in the fledgling churches of his time. He likened it to an examination, but in reverse: this time we have answers but we don't know the questions and our goal is to try to discover what the particular situation was in any church to which Paul was writing. He then expounded on some of the problems facing the church in the Corinth of Paul's day.
Following the service, at which Archdeacon John presided at the Eucharist, many members of the congregation repaired to the Church Hall where they enjoyed light refreshments and a chance to chat.