Make a note in your diary for St Andrew's Music Week 2023 which begins on Tuesday 10th October and ends with a fund-raising Concert on Monday 16th October.
During the week the Facilitator for this year's Music Week, Neale Agnew, will work with the St. Andrew's Singers which comprises members of the church choir supplemented by friends and colleagues.
On Sunday 15th October the choir will lead worship at the 10:30am Harvest Thanksgiving Service in St. Andrew's. At this service a set of magnificent solid oak outer church doors will also be dedicated
Monday 16th October at 7:30pm is Monday Night is Music Night, featuring Neale and Mary Felgate, violin (The Caledonian Reelers) and the St. Andrew Singers. This will be followed by refreshments afterwards in the church precincts for the audience.
Neale Agnew – Facilitator, Music Week 2023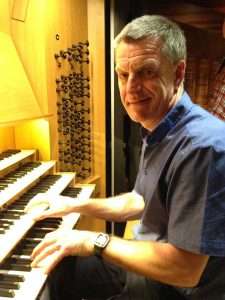 From a young age, Neale has been involved in every aspect of choral music – as a singer, conductor, accompanist and organ soloist, beginning his passion for church music as a chorister in First Presbyterian Church, Bangor at the age of 8. He has been Director of Music in Fisherwick Presbyterian Church, Belfast since 2005.
Neale has worked with many of Ulster's leading choirs and choral societies and his interest in liturgical music has given him opportunities to perform at venues throughout Ireland, in England, in Germany, Austria and in the USA.
He is a Past President of the Ulster Society of Organists & Choirmasters, sat on the Advisory Committee of the Incorporated Association of Organists and is currently on the Board of the Northern Ireland International Organ Competition.
A retired primary school teacher, Neale now divides his time between church music, teaching piano and cycling.