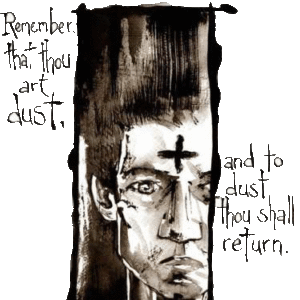 To mark the beginning of Lent there will be Holy Communion with imposition of Ashes on Wednesday 6th March at 10 am.
Lent can, if we let it, summon us from the safe harbours of our lives into a wide expanse of existence. Part of the point of deciding to lay things down, or to take things up (depending on the decisions we make as Lent begins) is that in doing so we make our lives unfamiliar, even if only in a small way. We check ourselves as we reach for those familiar safety devices like chocolate or alcohol and challenge ourselves into a less familiar response. What we "do" for Lent is far less important than who we become. Who are you becoming this Lent? What have you learnt about yourself and about God that is transforming you? What wilderness experience do you need to encounter for God to transform you, our church and our world? 
This year at St. Andrew's we invite you to experience Lent not as a season of restriction but one of wide open spaciousness in which to learn new lessons, to grow in faith and to give God the chance to meet us in new ways.
In Lent we remember especially the depth of despair laid out before Jesus and he still chose to go. His whole life and ministry was summed up by the choices he made in the wilderness when tempted by the devil. He could have chosen the easy way but instead he chose the hard way. He could have chosen the way that brought personal honour and praise but instead he chose the way brought love and compassion. He could have chosen grandeur and comfort, but instead chose to live alongside those who had nothing. He saw and knew exactly what he chose but he still said: "Let me go there".
Come with us and Jesus as we take time to enter the wilderness and hear the challenge to come and follow him. The question is, whether we, like him, can echo those words: "Let me go there".
Our Lent Study Course this year, which started early, takes place each Thursday from 14th February to 11th April, following the mid-week Holy Communion service at 10.00 am and is a study of the Epistle of James. Click here for more details.
Also for Lent the beautiful evening service of Compline will be said each Sunday evening at 6:00pm in the church. Roman Catholic, Eastern Orthodox, Anglican, Lutheran, and certain other Christian denominations with liturgical traditions all prescribe Compline, which is a contemplative service that emphasizes spiritual peace.