We thank God that we are able to announce that the Rev Fr Alec Mitchell has accepted the position of Priest-in-Charge of St. Andrew's, Kyrenia.
Fr Alec will be instituted to the Incumbency of the Parish by Archbishop Michael on 4th June 2023. He will be accompanied by his wife Linda as we begin this new, exciting time for them and for St. Andrew's.
Deo gratias!
Below is a short biography sent to us by Fr Alec. We look forward very much to welcoming Linda and Fr Alec to Kyrenia.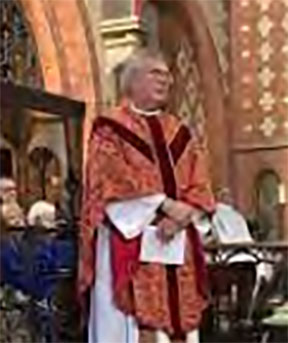 I was born in Maldon, Essex, in November 1952, the youngest of three (an elder sister and brother) and was a 'cradle Baptist'. I was baptized, by full immersion, aged 16. After a 'gap year' I went to Manchester University to read theology, while concurrently training at the Northern Baptist College to be a Baptist Minister. I also studied for a semester at the Ecumenical Institute of the World Council of Churches in Switzerland.
I was ordained as a Baptist Minister in 1977 and served for 22 years in Moss Side, Manchester, in a church that had no baptistry. We used the local swimming pool for our (full immersion) baptisms: a spectacular setting! The church congregation was a rich mix of many nationalities and occupations: there were Jamaicans and British, hospital cleaners, BBC personnel, jam factory workers and university lecturers. . .
I began ministry in the Church of England in 1999 after a brief period of re-training at the College of the Resurrection in Mirfield, West Yorkshire. I was ordained deacon and then priested within the space of a few months. (My journey was not quite as speedy as that of St Ambrose of Milan, who is said to have been baptised, then made a priest, and finally consecrated as bishop, all within the space of a week!). I served my title in Ashton- under-Lyne, and held incumbencies in the Diocese of Manchester in both Ashton and nearby Denton, combining the role of parish priest with that of Racial Justice Officer for the Diocese, from 2002 until retirement in 2018. I was appointed to the latter post by my then Area Bishop (of Middleton) – one Michael Lewis, now Archbishop here in Cyprus! I was also the first Borough Dean for Tameside (one of Greater Manchester's ten metropolitan authorities) and a Chaplain to both the local sixth form college and the Tameside Sea Cadets – whose 'seas' were the nearby canals and reservoirs in the Peak District.
I met Linda, my wife of 39 years, due to a 'guess the weight of the cake' competition! She had baked the cake, and my guess was the best – although she maintains that I cheated, because I had lifted it up! Linda is also from Essex, although we met in Manchester. Her career was as a secondary school teacher and she retired as an assistant Head at a large comprehensive school in Cheadle, Stockport. We married on 4.8.84 – a date which I can remember because it is a palindrome. We have three grown-up children, Nadia, Leila, and Aidan (the first and third are palindromes of each other!) and our daughters are currently living in Manchester and Germany, and our son is travelling in South America on a gap year from the Civil Service. We certainly hope they will all come to visit us in Kyrenia.
I love reading, cooking, music of all kinds, (except jazz and pop), Scrabble, sailing, rugby union, and railways. I am a rather poor pianist, and, having been a very average 'all-rounder' at cricket, I now pride myself on having been a very 'acceptable' umpire for clergy cricket matches. (9 out of 10 appeals for LBW are 'not out'!)
Linda and I are thrilled to be coming to St Andrew's, and look forward to meeting you all, and getting to know our way around. We give thanks to God, who has led us here, out of what we thought was retirement….!